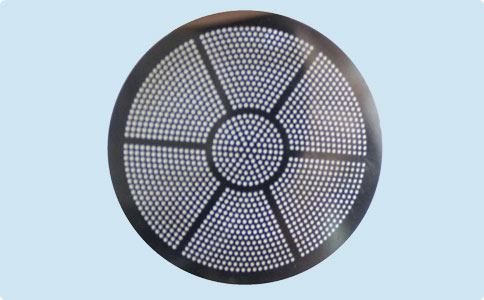 Etching sheet name: filter mesh
Uses: Filters are referred to as filters, which are processed from sheet metal. Their function is to filter the melt stream and increase the resistance of the stream to filter out impurities. Mainly used in tea nets, bean nets, screens, medicine, machinery, food and other fields. The metal filter mesh is produced and processed using a hardware
filter etching machine.
Etching process
: coating → drying → exposure → development → etching → peeling
Equipment required: (metal etching machine equipment)
1
Coater
: It is used for coating the workpiece as the protective layer. The ink on the coating machine is the most advanced and mature technology of today's technology. It is characterized by uniformity, time saving, labor saving, high output and consumables.
2
oven
: used to paint the ink to dry, prevent ink sag, deepen curing
3
Exposure machine
: used for the local photosensitive ink on the light-solid workpiece to form image transfer. The UV-wavelength ultraviolet light is emitted by turning on the ultraviolet light to transfer the pattern on the film to the workpiece coated with the photosensitive ink.
4
Developing machine
: used for photosensitive process, after the exposure, the surface pattern of the product is revealed, and then enters the etching process, which can realize continuous production.
5
Etching machine
: used to corrode the exposed metal part of the workpiece, and use an etching solution to remove some metal corrosion equipment by high pressure spraying.
6
ultrasonic cleaning machine
: used to clean the excess ink after corrosion to get the finished product.
The above equipment is selected according to the actual output and the size of the workpiece. If you have any questions about the
filter
or any
etched sheet
, please call our sales phone for details.